CLICK HERE FOR MINISKAFF MODELS
Miniskaff is the only Australian Made home scaffold. Miniskaff is a lightweight scaffold and is easy to assemble. The modular scaffold design means that Miniskaff can be assembled quickly and is suitable for uneven surfaces and can be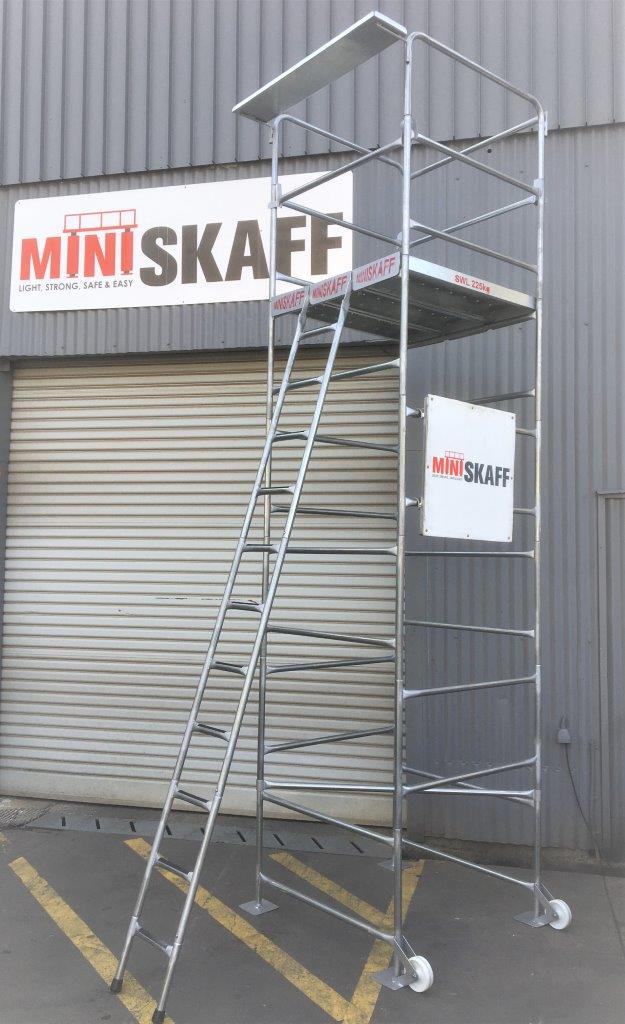 used as a stair scaffold. Frame sizes are 600mm for compact storage and can be easily transported in the boot of a car. Miniskaff is a domestic scaffold that has been tested, certified and manufactured in Australia for over 30 years.
CLICK HERE FOR MAXISKAFF MODELS
Maxiskaff is an Australian Made, lightweight tower frame scaffold system. Maxiskaff is suitable as a home scaffold, or as a trade scaffold and meets Australian Standards. Maxiskaff is rated as a medium duty scaffold with a SWL of
450kg (safe working load) and is plant registered by SafeWork. The versatile Maxiskaff system can also be configured for use as a shaft scaffold, a stair scaffold and the 'basis' for our range of portable access steps or modular pipe stepovers. With a compact scaffold frame size, the Maxiskaff will fit through a 500mm manhole for use inside tanks as a tank cleaning scaffold. Maxiskaff is made from lightweight steel and is easy to assemble and dismantle.